---
Skiing in Italy, let alone ski-ing in Abruzzo, never used to quite have the kudos of some of its European neighbours such as Austria & Switzerland. However, this reputation is constantly improving making Abruzzo the winner when it comes to most affordable skiable peaks in Italy with a choice of 3 airports,  Pescara, Rome, Naples choose from to fly to when ski-ing in Abruzzo.
---
There are 20 ski resorts in the Abruzzo Apennine region with nearly 370 km of runs advertising that they'll be open, plus a few places specialising in cross-country or nordic skiing (a popular pastime in Abruzzo).
Skiing in Abruzzo caters for all levels; between the linked Abruzzo resorts of Campo Imperatore, Campo Felice and Ovindoli Monte Magnola in the L'Aquila area there are approximately 14 black runs, 19 red runs, 10 blue runs & 3 green runs. Further south, the world class resorts of Pescocostanzo and Roccaraso-Rivisondoli proffer nearly 50 further runs across the more advanced ranges. Roccaraso recently held the finals of the FIS "carving" cup, back in March 2009 and in 2006 hosted the Ski World Cup Winter Games, so if you are looking for competitive, taxing skiing this resort in particular could be just the place for you.
Skiing in Northern Abruzzo
We personally love the smaller recently upgraded  Prati di Tivo  resort near Teramo which has good, uncrowded slopes for fun skiing and snowboarding (expect 1 Black run and an even threading of Red & Green runs on this most northerly of Abruzzo's ski-resorts.
Skiing in Central Abruzzo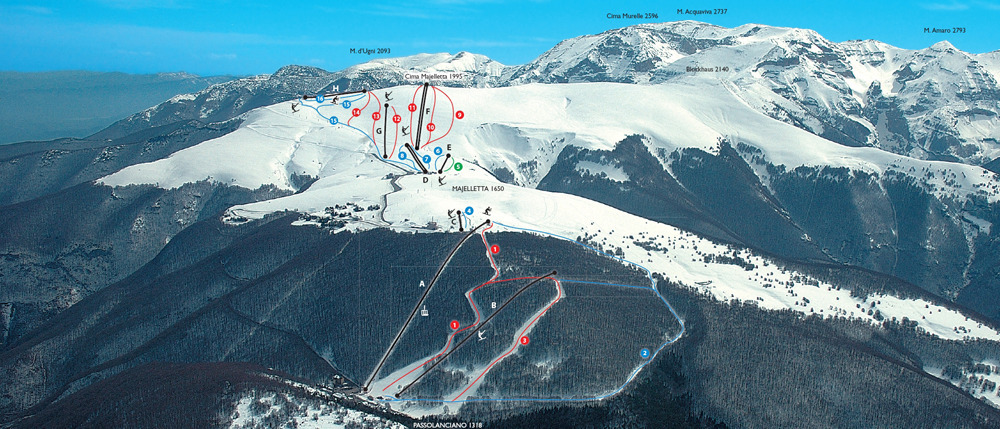 If you'd like to ski overlooking the Adriatic Sea we advice trying the uplifting Passo Lanciano-La Majelletta; it offers 9 ski-lifts, 10 ski runs and 2 ski school plus 5 hotels.  A weekend ski-pass is €45 for adults, €37 for children.  Nearest town Pretoro.
WebCam
Directions
Nordic Skiing
For those who find plummeting downhill at high speeds too tedious, nordic cross-country skiing can provide an excellent alternative, allowing skiers to experience Abruzzo's remarkable snow-bound terrain at a more sedate pace, whilst engaging in an formidable form of exercise. The tourist office provide information on locations for cross-country/nordic skiing, but three popular areas are Campo Imperatore in the Gran Sasso e Monti della Laga National Park, and Campo Felice & Caramanico Terme in the Majella National Park.
What is great about most of these Abruzzo ski resorts is that they will have nearby a local National Park shop, so for self-catering foodies you'll be able to stock up on really tasty, high quality locally grown foods that are in turn supporting the local rural economy.
courtesy, again, of Andrea Omizzolo
Ski-passes range in price from approximately €15 to €40 for day passes. Skiing conditions normally last from December to April, and there are various websites with information and webcams providing up-to-the-minute reports on the quantity and quality of snow. Much of the skiing season you can find the smaller slopes quite quiet, but at weekends during the peak time huge numbers of Romans and Neapolitans descend on the better slopes and queues can be substantial; particularly worth watching out for is the huge traffic build-up at the end of the first weekend in the new year, when all the skiing Italians return to their homes; we were once stuck at the toll-gates into Rome for 2 hours, with our departing flight horribly imminent…
Abruzzo's ski resorts are all relatively easy to get to from Pescara Airport, whilst the more northern slopes in the L'Aquila province ones are convenient to those flying into or coming from Rome; Pescocostanzo and Roccaraso-Rivisondoli are approximately 2 hours drive from Naples and Rome. For those that don't want to miss a full day on the slopes we advise flying back from Rome if you are flying to the UK.  Currently the Pescara flights leave at 06.00 am which means that you potentially miss out on a last day of skiing on your precious holiday.  There is no extra price for car hire or in the sense of costs of flights if you fly to one and depart from another so take full advantage!
Like a lot of places where snow is a seasonally constant event, Abruzzo's mountain roads are kept clear of snow with staggering regularity and efficiency. However, after a bitter icy past experience, we do advice snow chains for your tyres and some hire companies can provide them upon request. All the resorts have hotels nearby, with varying degrees of facilities available, such as bars and restaurants. Agriturismi can often be found nearby to make skiing in Abruzzo incredibly affordable.  Expect to pay around €28 for 2 people for 3 courses with wine if you visit an agriturismo for dinner.
Some Italians who go skiing in Abruzzo have second homes near their preferred resorts, such as Pietracamela close to the Prati di Tivo and Prato Selva bases. Off-season these places can be eerily deserted but make for beautiful affordable bases for those that enjoy hiking in the mountains.
Further reading and viewing: